Da-yeh University was founded in March, 1990. Campus area: 298,795 m2; building coverage rate: 13%; green cover rate 82.7%; organization: 6 colleges and 37 departments; faculty and student number in 2012 school year: 10,263. The infrastructure during the founding of school was well-planned by the founder Ye Song-gen and president Liu Shui-shen. Essential prerequisites for food, clothing, housing, traffic, education, and amusement are fully equipped. Therefore, teachers can teach effectively, students can enhance their learning, and faculty can handle administrative work efficiently. Since the school was founded in 1990, each infrastructure has been updated according to schedule; with the development of the time, the future campus infrastructure will be upgraded.
The east and west length of ground is 1,500 meters, while south and north length 900 meters. The landform is high in the east and low in the west. The south and north boundaries are divided by ridgeline. The campus of Da-yeh is located in a particular slope. School buildings are built along the mountain. Each buildingstands ups and downs along the land, while the path of the campus winds in the midst. It seems one village appeared one after another in the midst of the beautiful landscape. According to the topographic features of the campus, the planting and beautification of the campus is scheduled as follows: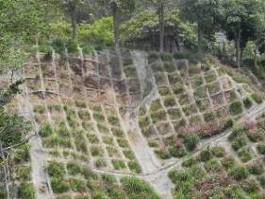 .Planting Period—From 1990 to 2001. It focuses on "planting," planting more trees, which make the landscape beautiful and conserve soil.
.Beautification Period—From 2002 to 2003. It focuses on "beautification," planting flowers of four seasons to create bright colors in the campus.
.Purification Period—From 2004 on. In order to create a high-quality learning environment for teachers and students, the software and hardware facilities in the library have all been upgraded, such as the update in air quality monitoring, air-conditioning, lighting, video equipment, etc., coping with the environmental protection policy such as recycling, reusing organic compost.
Besides, Da-yeh University has spent a lot of money setting up noise control, electromagnetic wave monitoring, digitalized campus surveillance system. The university does their best to protect the environment, and make effective use of energy and resources. The management of campus environment has acquired ISO 14001 environment management system validation.Da-yeh has gained many awards in evaluation competition, including: 2008 Award for Successfully Promoting Environmental Protection—Class A School, Environmental Protection Administration; 2009 and 2011 Championship of Excellent Water Conserving Unit College Group, Water Resources Agency, Ministry of Economic Affairs. Also, in 2011 GreenMetric in the universities around the world, Da-yeh was ranked the 17th in the world and the first in Asia and in Taiwan.